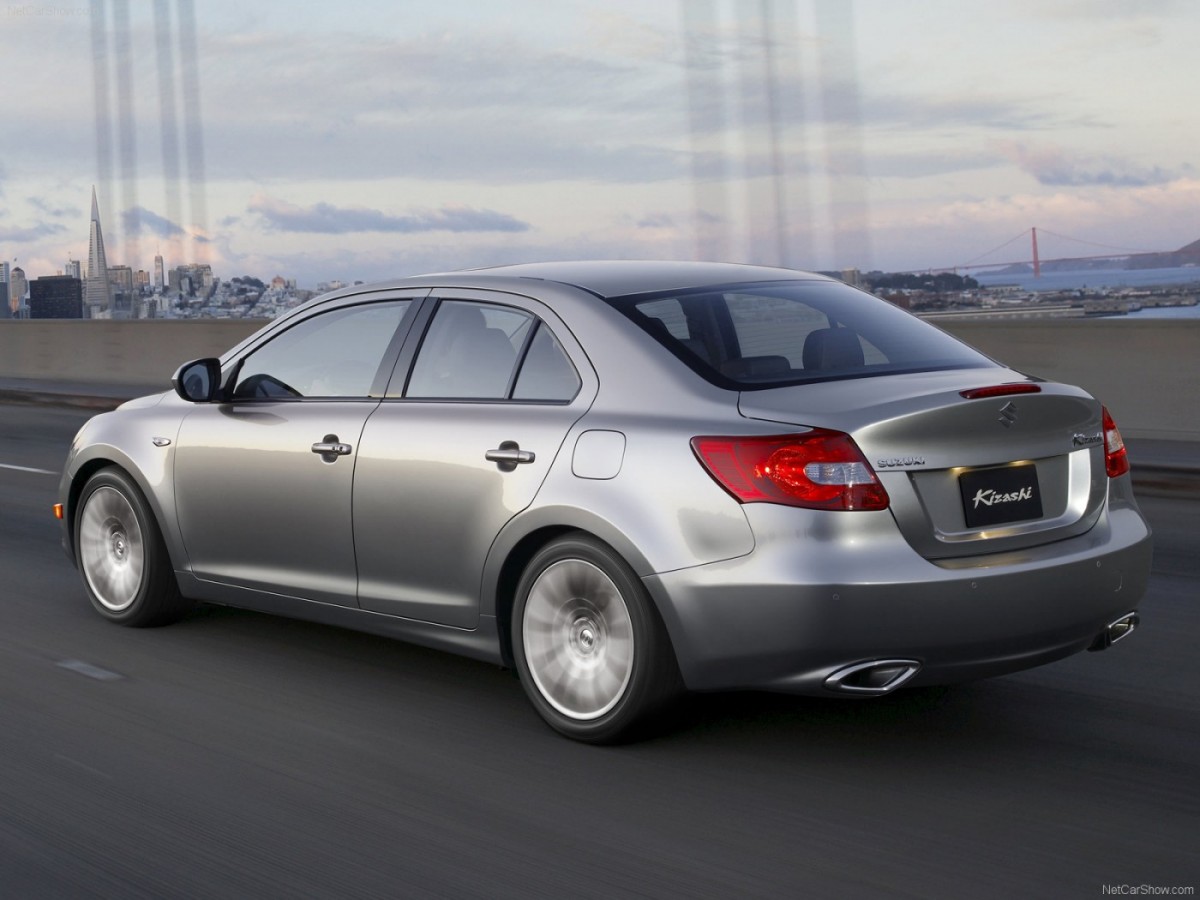 Pak Suzuki Heavily Advertising Kizashi – Is There a Future?
Calling Kizashi a jewel in the crown of Pak Suzuki should not be an overstatement, available at a steep price tag of PKR 5 million, it is by far the most expensive and the most premium Suzuki available in Pakistan since the one in at no. 2 is Hayabusa at PKR 2.6 million. Kizashi was launched in our market last year, and since then it has found little in fact; no success!

Another Obsolete Suzuki Exclusively for Pakistan's Market!
That's right, Pak Suzuki continues to advertise Kizashi as a state of the art modern day sedan while in reality it is a globally discontinued car. It was abandoned by Suzuki in 2014 just four years after it went into production worldwide. To name a few, Suzuki's exit from the U.S, global financial crisis, lack of engine options leading to poor fuel economy all resulted in Kizashi's global failure.
Have a Look: Suzuki Kizashi Officially Launched in Pakistan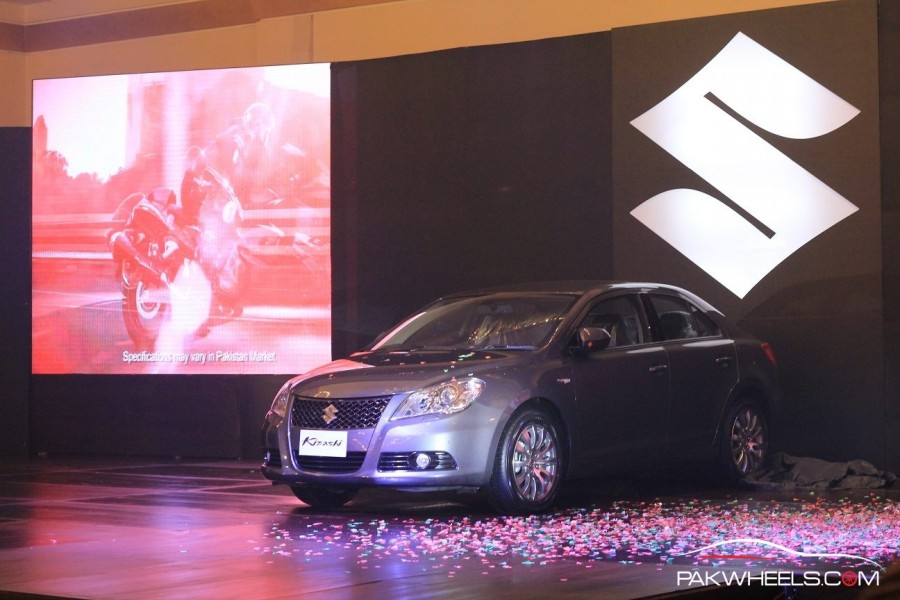 What's more, Pakistan is now the only country in the whole world where Kizashi is being sold officially by Suzuki as its global discontinuation in 2014 means it was already obsolete when Pak Suzuki proudly introduced it to Pakistan's market by holding a glamorous event at a hotel in Lahore.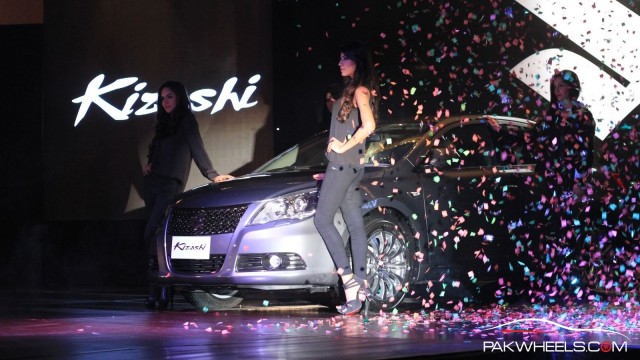 Also Read: Why Suzuki Will Fail To Sell Kizashi In Pakistan
To make up for the exclusivity of Pak Suzuki in the case of Kizashi, Wikipedia, one of the world's most popular wikis, has added a separate entry under the production years of Kizashi, especially for Pak Suzuki.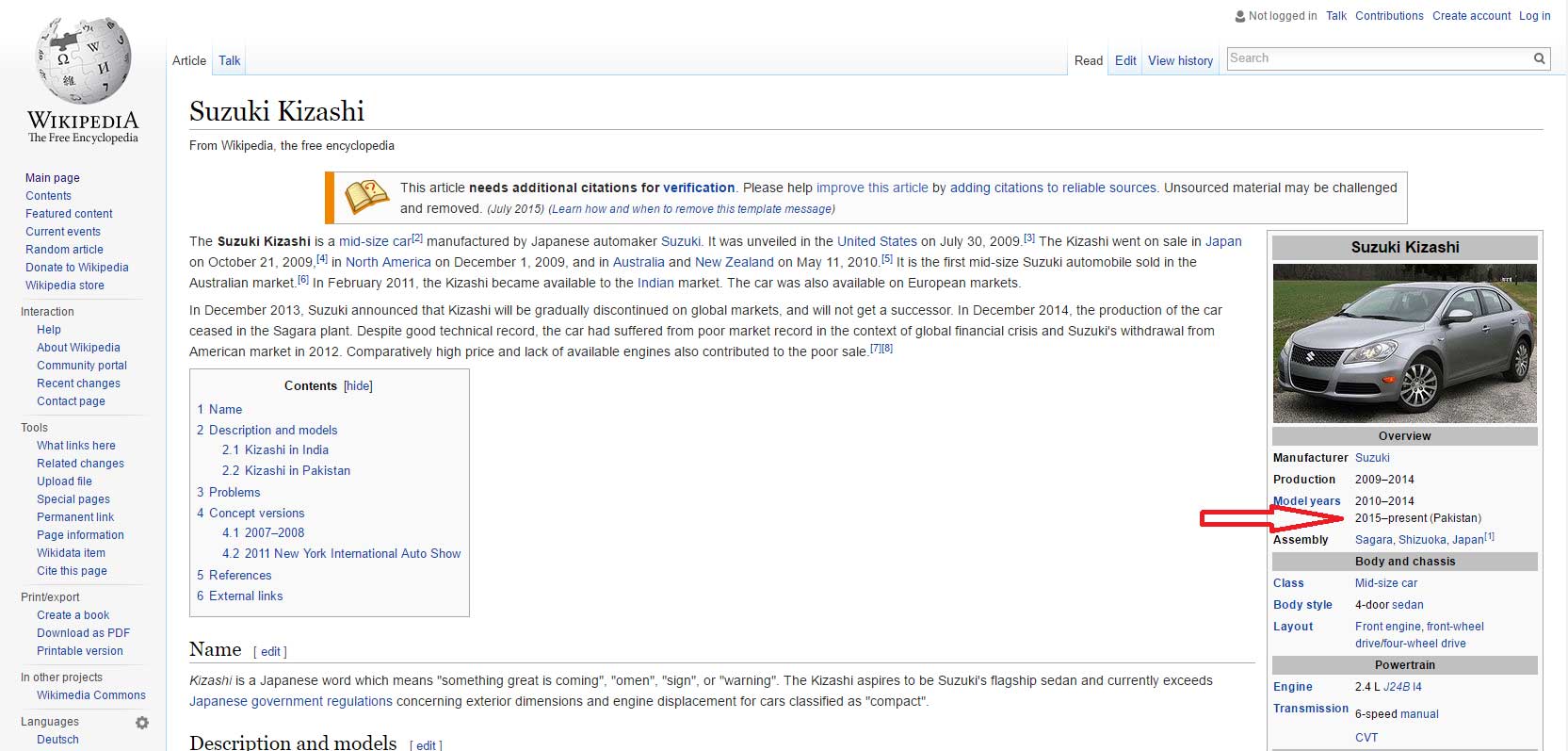 What is the reason for Suzuki Kizashi's failure in Pakistan?

While many reasons contribute to Kizashi's failure in Pakistan, the core reason remains its price. The high price of Kizashi is largely because of the fact that Suzuki imports it as a Completely Built Unit (CBU) instead of importing its CKD and assembling it in Pakistan. CBU imports are heavily taxed and bear over 100% duty. Some may argue that Audi A4 priced at PKR 5,800,000 and Audi A3 available for just PKR 3,850,000 are also CBU imports instead of that Audi has been able to offer competitive pricing. The lower prices of both the Audis mentioned is because of their low displacement engines. Our duty and tax structure variates with the engine displacement of the car imported, and since Kizashi comes with a massive 2,400cc engine, it is subjected to way more taxes than Audi A4 and A3. This explanation also fits perfectly to the odd pricing of both Toyota Camry and Honda Accord in Pakistan both of which come with 2400cc engines as well and bear price tags twice to that of Kizashi.
Read More: So Who Is Going To Buy The 'Supreme Kizashi'?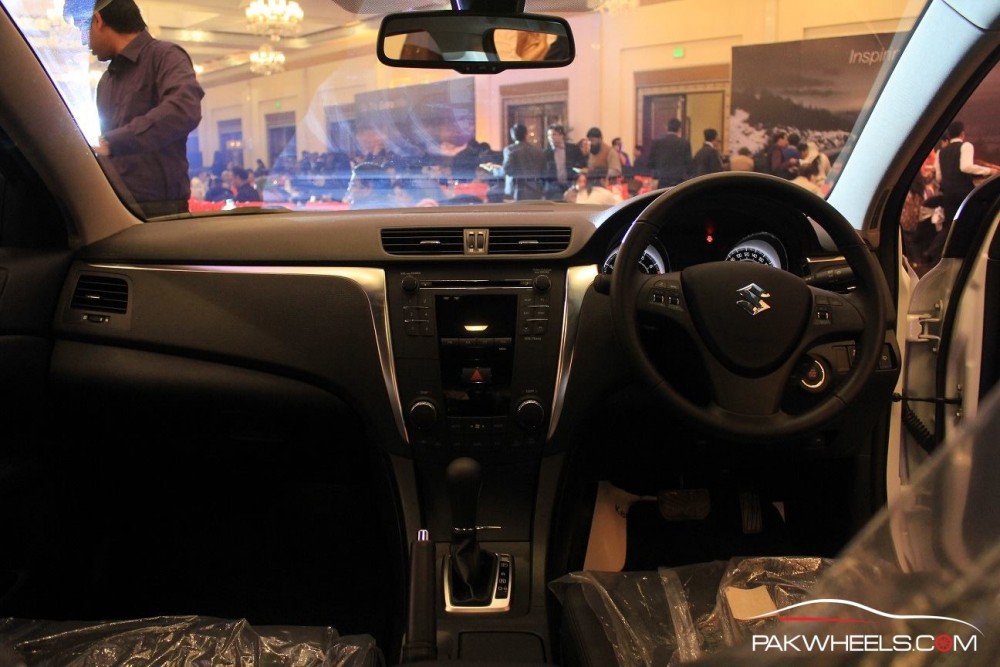 So Why is Pak Suzuki Promoting a both Failed and Obsolete Car in Pakistan?
By now you would have probably watched Pak Suzuki's new Brand Music Video/TV commercial, remember "the one with all the inappropriate Kizashi drifting"? The star of the two-minute long film was undoubtedly Kizashi whose shots composed much of the video. The uncanny timing of Pak Suzuki's TVC with Honda Civic's launch in Pakistan opened up the rumor mill on the social media as many car followers started to create links between Suzuki's TVC and a possible Kizashi's production in Pakistan which could bring its price down to compete with Honda Civic. In addition to Suzuki's brand video, Kizashi has been making successive appearances on Suzuki Pakistan's official Twitter and Facebook feeds.
Have a Look: Pak Suzuki TVC – Did they Forget to Show their Best Sellers?
Well with all the history lessons and evidence presented in this article, now you probably know for sure that Suzuki is least bothered to give Kizashi another shot anywhere in the world, and since Pakistan is not a premium market, Kizashi's production in our country seems uncertain, to say the least.
The Suzuki Kizashi with its high definition design depicts luxury & precision. #SuzukiPakistan pic.twitter.com/gHK97cV1MF

— Suzuki Pakistan (@SuzukiPakistan) January 28, 2016
All Pak Suzuki looks to achieve from advertising Kizashi is to market itself as a premium brand in Pakistan which would in return help bolster the sales of its cars like Wagon R and Swift who compete with Japanese cars from brands perceived as more "premium" than them!