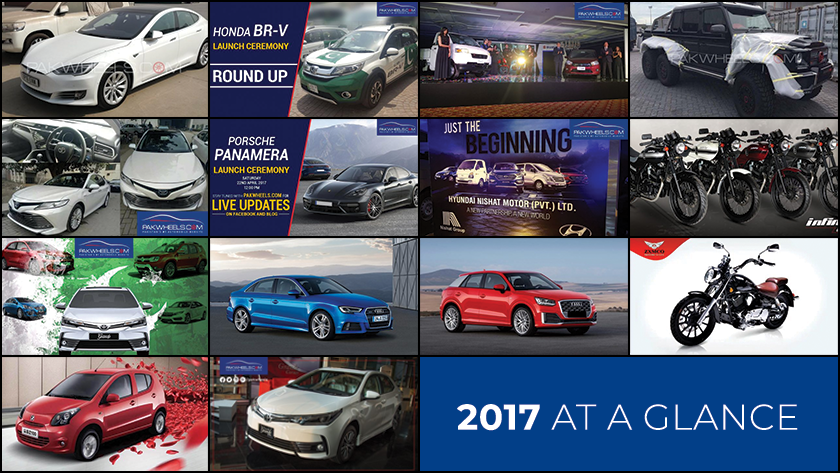 2017 Review: The Big Picture of Pakistan Auto Industry
2017 no doubt has been the biggest year so far in the history of auto industry in Pakistan. The auto sector has seen a signification growth in the sales of cars, new car launches and various other additions and improvements. Let's have a brief look at all the relevant big and small news which made headlines this outgoing year.
Suzuki Launched New Cars & Bikes
Suzuki Pakistan played a very significant role in making the year 2017 a very good one. Suzuki took everything by storm by launching the New Cultus, Suzuki Ciaz, Suzuki Vitara, Suzuki Carry, Suzuki GSX-R600 and Suzuki GR150 all in 2017. In fact, Suzuki is now the only company in Pakistan which has a product in all noteable segments like hatchback, sedan, SUV, loaders, and even motorbikes.
Pak Suzuki announces four new vehicles at an exclusive launch event
Pak Suzuki launches two new bikes
2017 Suzuki Cultus – Detailed Review, Specs, and Photos
All New Suzuki Vitara Launch in Pakistan
Honda didn't have A Smooth Ride
For a long time, Suzuki APV and Toyota Avanza were the only MPV's locally available in Pakistan, but both were particularly not desirable cars due to many reasons. Honda took this as an advantage to bring its highly successful BR-V at not only a brilliant price but also managed to equip it with a decent number of safety and security equipment. Since then the car has done great in terms of sales. But Honda on its own has a rough year. The biggest of the companies have their bad days and Honda also suffered this year, first they faced a huge backlash from customers when a life-threatening recall to fix faulty airbags in few Honda units was stated as an "Upgrade" and then the knocking issue in various Honda Civic X Turbo units forced the company to discontinue the car. The relaunch of the current gen City also didn't do them any good in terms of public opinion. However, we hope the coming year will be a lot better for Honda in every way.
Honda BR-V Launch in Pakistan – Live Blog
Honda Atlas halts the production of Civic X Turbo – Citing A Problem In The Engine
2017 Honda City Facelift Receives Confused Response From the Customers
Truth Behind Controversial Petrol Additive Manganese "MMT", Oil Companies Threaten Honda Atlas!
Toyota Wasn't So Far Behind
Toyota started the year quietly by introducing the new Generation Prius as a CBU model and started bookings for the Toyota Fortuner 2nd Gen which was launched for Pakistan in Sep 2016. Then in Q3 of 2017 came the moment everyone was waiting for. Toyota IMC revelled the new Corolla Facelift for Pakistan. Toyota upgrades all its Corolla models with various features and equipment making the top of the line model nearly identical to the international models (Altis Grande) while rest of the lineup also received multiple exterior upgrades and features. Moreover, IMC Toyota canceled almost 1300 booked cars in a bid to discourage ON system in the country. And then there are rumors that Toyota Pakistan is discontinuing XLi/GLi Corollas and launch a 1300cc Vios instead.
IMC is Bringing New Toyota Fortuner
2017 Toyota Corolla Altis Grande CVT-i Detailed Review, Specs and Photos
2018 Toyota Camry Hybrid Rumored Price and Leaked Photos
IMC Pakistan launching a new car for people who still love diesel engines
IMC Pakistan cancels more than 1000 booked cars
Toyota Pakistan – First to sense the winds of change
Audi's Latest Offerings
Along with revising the prices of Audi A4 and Audi A6 early 2017, Audi launched a funky little crossover in Pakistan and the Audi A5 Sportback. Audi Q2 has been launched as Honda Vezel, Toyota C-HR, and Nissan Juke rival. While Audi A5 Sportback has no direct rival here in Pakistan and it has always felt short behind the sale of the Audi A4 but with the new one, Audi is ready to change things.  The starting price of Audi Q2 and A5 was a rather affordable PKR4.35 and PKR-6.85 Million but recent stock exchange rates have made all Audi line up rather much more expensive than before. Recently Audi also launched a very basic version of its bestselling Audi A3 to make it much more affordable.
Audi Pakistan Launches Entry Level A3
Audi Pakistan launches A5 Sportback
Audi Pakistan Introduces Q2 in Pakistan
Porsche Panamera Launch

The Porsche Panamera is a high-end luxury sports sedan from Porsche which mainly rivals Mercedes CLS Class, Audi A7 and BMW 6 series. Porsche launched the amazing new Panamera in April and it's absolutely one of the most beautiful cars we have in Pakistan.
Porsche Panamera Launch in Pakistan
New Manufacturers Have Arrived!
Nishat Hyundai Motor
We reported earlier that Hyundai Nishat Motor had inked an agreement with the Government of Pakistan to assemble and launch vehicles of Hyundai in Pakistan. For this purpose, the Hyundai Nishat Motor held a ground-breaking ceremony for its assembly plant in Faisalabad today on 20th December. So embrace yourself for a number of Hyundai car launches.
Hyundai Nishat Motor plant ground-breaking event
KIA Pakistan
When it comes to KIA, the company has not made an official appearance in Pakistan, however, their cars have been spotted testing multiple times on the roads of Pakistan so that is an obvious hint that KIA will be making an official entry somewhere next year as they have made multiple deals with the government this year.
KIA-Lucky Motors signs agreement with Ministry of Industries and Production
HRL Motors
HRL motors also made a surprising move this year by bringing the Zotye Z100 to Pakistan which is based on the 7th Gen Suzuki Alto and is priced near to PKR12 lakh rupees. With that said HRL motor plans to bring a sedan and SUV also somewhere next year.
HRL Motors Brings Zotye Z100 in Pakistan
That's not all multiple manufacturers including VW Group, Renault, Scania, Great Wall, and ISUZU have announced their plans to invest in Pakistan very soon which came as a great news for the industry.
Renault signs MoU with Majid Al Futtaim to set up car production plant in Pakistan
A Treat For Bikers
2017 also turned out to be an excellent year for bikes too as we have seen various new and stylish bikes ranging from various manufacturers ranging from PKR0.9 to 20 lacks. These new entrants include:
Benelli 600- and 300cc bikes are finally here!
Uber and Careem Continue To Grow
If you don't own a car in a big city then you know the daily struggle of travelling but since the official arrival of UBER and Careem in 2016. We have seen a record number of people using these services for travelling with ease. Foreseeing the demand for the ride-hailing service both companies have expanded their service in various cities of Pakistan this year including,
Islamabad
Abbottabad
Gujranwala
Faisalabad
Peshawar
This has brought a lot of comfort to the people of these cities and we hope to see both services expand more in future.
Some other noticeable highlights
Pakistan gets its first Brabus G63S-700 6X6. Only a number of units exist in the whole entire world.
The first Tesla Model S lands in Lahore, Pakistan.
Pakistan also gets its first Lamborghini Huracan.
Local manufecturer United Auto has announced new 800cc and 1000cc vehicles for 2018.
German automobile giant Volkswagen's member of board's Management Dr. Joseph Baumert met PM Pakistan in his office and expressed intention to invest in Pakistan.
Road Prince has joined hands with DFSK—a Chinese company and launched three CBU (Completely Built Units) vehicles for 2018 in the country under the banner of Regal automobiles.
The government of Pakistan issued two new SRO's 1067(1) and 1035(1) in 2017 which created a lot of stir in the local automobile industry. With the issuance of SRO 1067(1) government made it difficult to abuse used import schemes, which would also make it difficult to import used cars in the country. And as far as the SRO 1035 is concerned, the government issued this SRO and increased the RD (Regulatory Duty) on new import vehicles. Porsche, BMW, and Audi Pakistan went to courts against the SRO and the decision is pending which to be announced in the coming days.
Audi, BMW, and Porsche Pakistan in courts against SRO1035(1)/2017
This was all from the Year 2017 and no doubt this year was a huge one. With that said we Wish our readers a Happy New Year filled with joy and prosperity and we wish the auto industry of Pakistan a very successful year ahead.